ERICA FERNANDEZ vs. BHP BILLITON PETROLEUM
Standing up against a billion dollar corporation and emerging a winner is truly difficult. But a young girl's efforts to counter act the petroleum major 'BHP Billiton's' decision of setting up a liquefied natural gas facility in her hometown Oxnard, California proved just that.  She stood up for those whose welfare was being ignored in this project. She gave them a voice. She is Erica Fernandez, a fearless environmental activist who stirred the world at the age of 12.
In her words, "Please, give a voice to the voiceless. Find your voice if you haven't found it. And be the one that gives hope for those that have lost it."

Erica Fernandez vs. BHP Billiton Petroleum:
 Erica was born and raised in Michoacán, Mexico until the age of ten. She lived a clean and pollution free life in this small town. Her parents then moved to Oxnard, California after which she was exposed to a completely different environment – one that was unhealthy and polluted backed by the intolerance of people. At the age of twelve, Erica heard that the world's largest mining corporation BHP Billiton had decided to build an LNG facility near her hometown in Oxnard, CA. Erica probed deeper and educated herself on the consequences of an LNG plant. She further discovered that this proposal included a 36-inch pipeline that was to be routed through low-income neighbourhoods and agricultural fields. Apart from being worried due to her asthma and her father's respiratory problem, she was concerned of the consequences as it would be a threat to the entire community too. She learnt that it would cause more air pollution not only in the coastal towns but all over Southern California. It would disrupt livelihoods of thousands and there would be no action taken for the community in place of the ruin that would be left behind. And worst, most of the community was not aware of the hazards this facility posed.  She found herself questioning, "I want you to envision waking up in the morning and not being able to breathe the air. What would you do? Who would you blame?"  She decided to stand for her family and the community by preventing the building of this facility. A video showcasing Erica's struggle: 
The Journey:
Erica decided to lead a campaign to defy and prevent the setting up of this facility which many thought was impossible. In collaboration with the members of the 'Sierra Club', 'Coastal Alliance United for a Sustainable Economy' and the 'Latino No an LNG group', Erica began the movement to achieve her goal. She mobilized students and youth by organizing rallies against BHP Billiton, met the community members for their constant support, reached out to the media, and went door-to-door explaining the hazards to all those whose lives would be affected by the facility. She spread the word about the dangers of the LNG facility by marching through the neighbourhoods of those houses where the pipeline was planned to be laid. "Many people who lived there hadn't even heard about it," she said. But this did not deter her from going back to them. She organized weekly protests and used the voices of the Latino youth for the public meetings against her cause. She met regularly with community members and began to reach out to the media by calling up television and radio stations. She began making presentations in classes and the church and teamed with her peers to deliver pamphlets at meets, communities and schools. She organized weekly protests at the BHP Billiton offices in Oxnard, brought more than 250 high school students and more than 2500 people in all for a rally to protest against the LNG plant.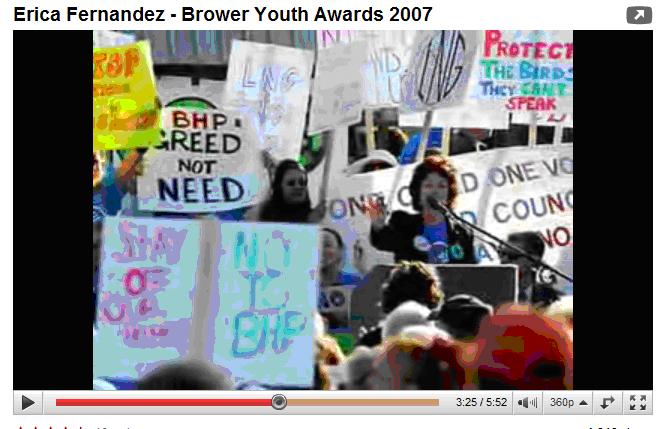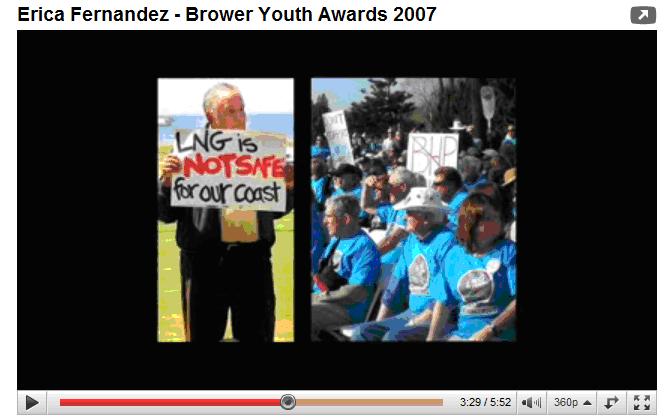 The challenge: 
In 2004, a public hearing was held before the California State Lands Commission. Erica was chosen as the representative. The title of her speech was "Environmental justice and the steps to a more sustainable community through policy making." The passionate yet powerful testimony at the State Lands Commission was flashed in the news and print. Her testimony and the wakefulness of these reports convinced the commission to veto and deny the project by giving it a 2-1 vote. She next moved to convincing the California Coastal Commission to veto against the project. Before the company could come to terms with the shock of the denial by Coastal State Lands Commission, the California Coastal Commission also voted 12-0 against the project. After this meeting Erica said, "This is something I'm going to remember all my life. It was a life lesson."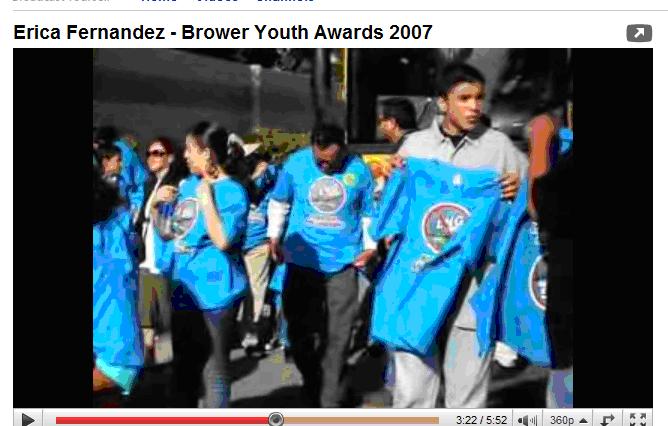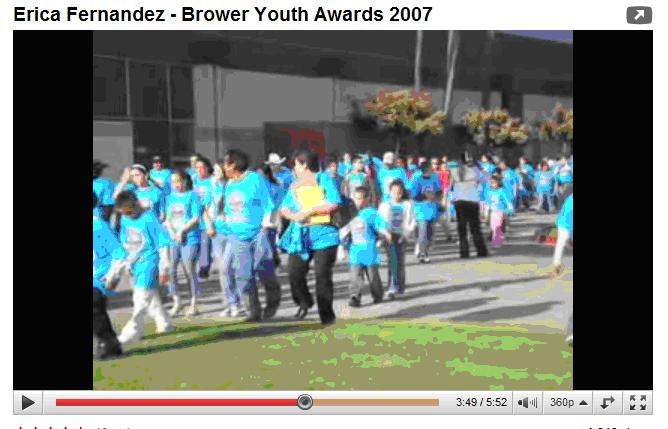 The final victory:
But the fight wasn't over yet. The corporation's plan needed disapproval from Governor Arnold Schwarzenegger and the Federal Maritime Administration. Erica's final task was of leading a new campaign of distributing thousands of post cards, letters and a phone call campaign of asking the governor for support, like the commissioners. Erica's hard work, efforts and determination paid off when the governor too gave his consent in opposing the set-up of the facility by the multinational billion-dollar corporation BHP Billiton. In 2007 after a long wait of four years the pipeline idea was terminated by the corporation. Erica's crucial role and persistent determination had successfully helped her community in opposing a multi-billion-dollar corporation. Erica learned an important lesson along the way: "A united community is more powerful than money." Her advice to everyone is, "You need to find your voice and speak up, when you speak up people hear you". The speech at Brower Youth Awards: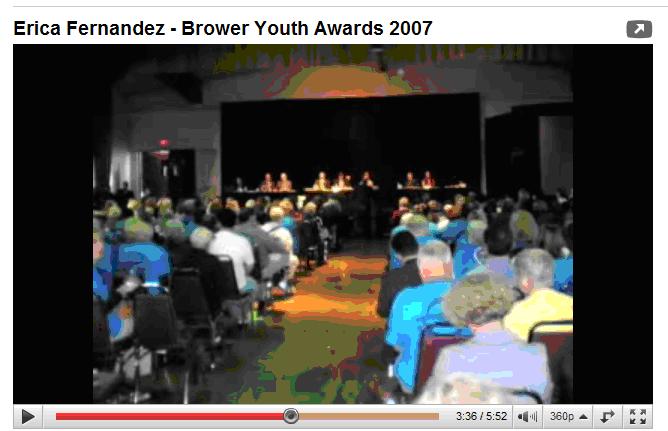 Erica's message:
"¡Si, Se Puede! Yes, We Can! Create change in our communities, nation, and our planet." She believes in working together to create a green, balanced, sustainable and healthier planet. Erica often quotes her role model Cesar E. Chavez: "Once social change begins, it cannot be reversed. You cannot uneducate the person who has learned to read. You cannot humiliate the person who feels pride. And you cannot oppress the people who are not afraid anymore. We are the future and our future is ours." Interviews with Erica: http://www.mnn.com/family/education-activities/blogs/green-teen-erica-fernandez-tackles-a-giant http://www.myhero.com/go/hero.asp?hero=Erica_Fernandez_2012 Awards: Erica was presented many awards for this rare achievement. She was the recipient of the Earth Island Institute's Brower Youth Awards (2007), Roots & Shoots Youth Leadership Award, a U.S. House of Representatives — Speaker of the House Award, the San Francisco's Mayor Award, a U.S. President's Award, Julia Brownley — California Legislature Award, Red Cross Young Women of the Year 2008, 2009 Jane Goodall Global Leadership Award, Cosmo-Girl Born to Lead Award, Gates Millennium Scholarship, Glamour- Top Ten College Women of 2011 and 2011 Daniel Eldon Activist Award. More links: Her message at the National Radio Project: http://www.radioproject.org/2009/02/erica-fernandez-vs-bhp-billiton-petroleum/ More on her: http://www.earthisland.org/journal/index.php/eij/article/erica_fernandez/