Craig and Marc Kielburger are child rights activists and founders of the Kiel Network, a trio of charities: 'Free the Children', 'Leaders Today' and 'Me to We'. '(Kids Can) Free the Children' is a child rights organization which inspires and empowers the youth to relentlessly help and educate the underprivileged children. 'Leaders Today' is an establishment which provides leadership training for thousands of youth who strive for change. The two brothers are also founders of 'Me to We', an organization which supports 'Free the Children' financially through their various programs and products of empowering youth and schools to be the change in their communities.
Craig Kielburger
In April 1995, 12 yr. old Craig Kielburger's life transformed forever from an ordinary young boy to a child right's activist after reading a newspaper article on child slavery. Along with this changed the lives of many child laborers who had been waiting for that one difference to come in their lives: the change from slavery to freedom.

The beginning of liberation:
Craig Kielburger picked his daily newspaper to read the comic section. However, an article on a young boy who was forced into child labor caught his attention. It was the story of a 12 year old Pakistani boy Iqbal Masih who had been working as a slave in a carpet factory since the age of four. Iqbal did not live freely as a normal child and had never attended school. Instead, he had been sold into forced labour for $12. Chained to his workplace, he relentlessly worked 12 to 14 hrs a day, six days a week tying thousands of knots in a carpet factory and getting paid 3 cents a day. He was so malnourished that despite his age of 12, his body was that of a six year old child. Still, he managed to escape, and was finally freed by the Pakistani police. An eloquent speaker, Iqbal successfully struggled to bring the public's attention towards child slavery. As Iqbal had campaigned for the liberation of thousands and the horrors of child labor began gaining international momentum, he was murdered at the age of 12.
Craig was the same age as Iqbal. As Craig says, "I was shocked, and then I thought, what can I do? I'm only one person." He wondered if there would be no more voices heard or spoken on behalf of such children. From then on, began Craig and soon to follow, his brother Marc on the journey to raise awareness on child labor and free the children from such atrocities. They sought to bring about a change in the children's lives- from that of working under terrible conditions to one of light and liberty.
Craig began to learn more about child slavery and human rights. He discovered that there were thousands of children like Iqbal who had been driven into slavery and were working under unsafe conditions in carpet factories or with perilous materials. Many such carpets were imported into Canada and other countries. Craig's parents allowed him to accompany a Canadian human rights worker AlamRahman on a trip to South Asia to work on this subject further. Craig saw the issues of child labor and wrote about his experiences in a book called 'Free the Children.'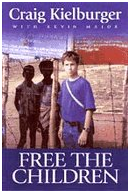 The boundless tasks:
After coming back from South Asia, Craig along with 12 friends founded "Free the Children" from garage, bake and pop sales and car washes. They signed petitions and wrote to their own Canadian Prime Minister. The world began waking up to the horrors of child slavery which still existed but had been shunned by many as a crime which was over long ago. Free the Children told the world which had been ignorant to child slavery about children working 14 hrs a day. It made the world aware about children who never went to school and were beaten, ill-treated and kept behind barbed fences. Awareness of nasty horrors about children who worked as prostitutes was created.
A lot of people did not agree to what Craig and his friends were doing. A Brazilian social worker also raised questions about the severity of the problem and asked in a popular magazine as to, "Why is it that North Americans always think that they can save the world?" Craig also suffered public attacks as people thought he was too small for preaching elders and politicians, and much less governments and nations. However Craig had seen a hero in Iqbal who spoke against child slavery. He understood that "a young person can make a difference." He continued his fight. In two years, Free the Children from coin donations had gathered enough funds to support a Pakistani rehabilitation centre which took care of young children freed from slavery.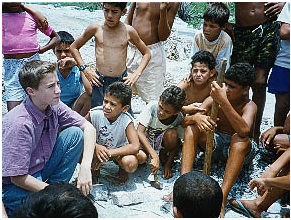 EDITOR'S NOTE: This is one of the most powerful videos about youth leadership by a teenager. See how he got inspired, started moving internationally, then inspired hundreds of schools to join his campaign.This 10 min documentary features a lot of Craig's early appearances. A MUST-SEE! and inspiration to WHAT WAVES the commitment of a handful of kids can TRIGGER. THIS is what should make YOU get started on doing the same. YL offers many tools for this in its stories and Teaching Tools. Connect with us to find out more. We would love to work with you!
Big achievements slowly began.
Germany adopted a tag called "Rugmark" which ensured that the carpets being sold were not made by child laborers. The US also followed and sports goods manufacturers stopped buying soccer balls made by Pakistani children.
Free the Children also formed 'Friendship Schools' linking schools in Europe and North America to those in developing countries. Health kits were supplied to over 100,000 schools and warm blankets were supplied to children affected by wars in Pakistan. Money was collected through fund donation for building more than 300 rural schools. 2000 school kits, desks, chairs and text books were supplied to freed child soldiers in Sierra Leone.
Craig on his journey met several street children whom he regarded as true heroes. "They impress me the most because they never give up hope. They have this amazing spirit about them, and this amazing sense of friendship where they take care of each other. They've taught me more than any meeting with a celebrity or world leader ever could."
Craig has received six honorary doctorates in the field of education and human rights. His advice to young children is: "You don't need 'manpower.' Everything falls into place if you believe in what you are doing. There will be cynics and people who put road blocks down if you challenge the status quo. Just keep the issue at your heart. The more you research, the more power you have."
Marc Kielburger
Marc Kielburger (C) WWW.NSB.COMarc Kielburger jokes about himself and his brother Craig as, "we are accidental activists." We slowly got hooked on to "the joy of helping others."
Marc Kielburger, the leadership specialist was born in Southern Ontario. He did not have much knowledge about the underprivileged children till the time he started working as a page with the House of Commons. During his work he went for a year to help a charity in the slums of Bangkok, Thailand. There he discovered the pleasure of helping others by teaching English and assisting AIDS patients. He also realized the joy of lending a hand to the deprived children and upon his return to Canada founded 'Leaders Today', an international youth leadership training association. He also founded the organization 'Me to We' which stressed on socially ethical living as the standard, believed in helping others and finding true joy. Me to We also aids Free the Children programs financially through their various products and services.
Marc is the author of Me to We: Turning Self-help on it's Head, and Me to We: Finding Meaning in a Material World. He along with Craig writes regularly for Canadian Living, Vancouver Sun, Huffington Post and Toronto Star. Through his writing he reaches out to not only the poor but also to those obsessed with the material world and selfishness. Craig and Marc are the co-authors of Take Action! A Guide to Active Citizenship, Take More Action and The World Needs Your Kid: How to Raise Children who Care and Contribute. He has also received two honorary doctorates for his work in human rights and education.
Craig and Marc have also shared the podium with former U.S. president Bill Clinton and leaders such as Nelson Mandela, Archbishop Desmond Tutu, Al Gore, Queen Noor and The Dalai Lama.
Craig Kielburger speaks on his brother Marc:
"The first person who showed me it doesn't matter how old you are to make a change was my older brother, Marc. When he was 12, he did a science-fair project. He got really excited and started collecting signatures for a petition to ban products that were harmful to the environment. I remember watching him and thinking how amazing it was [that] he's changing the world…and I wanted to follow in his footsteps. Then, when I read that article when I was 12, I thought about Marc… and how he was able to make a difference. If it wasn't for his example, I don't know if I ever would have taken that next step. Because he did it, I felt that I could do it too. My older brother is definitely my hero."

The commencements of projects:
Free the Children (FTC) has opened almost 100 rehabilitation centers all over the world which takes care of exploited children. It also creates awareness amongst youth who wish to help in freeing children from slavery. FTC has built more than 650 schools in Asia, Africa and Latin America. Education is being provided to children in more than 16 countries. FTC also launched 'Adopt a village development model' helping women and children with supportive income projects.
FTC involves more than 100,000 youth working for children in more than 35 countries. Child labor, poverty, education, child rights and war affected issues are dealt with. Medical supplies are sent to all FTC medical clinics. A school was created in memory of Iqbal on donations of school children. It has been running fine for more than 15 years, now.
FTC has established two rehabilitation centers in India for free child laborers, and supportive income programs designed for children to leave work and attend school. FTC regularly establishes projects to create awareness among youth and bring about a positive change. FTC also created the "Youth Ambassadors for Peace Project" and maintains a speakers bureau through which they regularly reach out to people. 'O Ambassadors' was a joint project of FTC and Oprah Winfrey's Angel Network designed to inspire and engage youth in North America to help the disadvantaged overseas. Craig Kielburger on the Peace centers in Kenya and Ecuador says "where young people from around the world, especially from post-conflict zones, can go through this intensive training to become Ambassadors of Peace."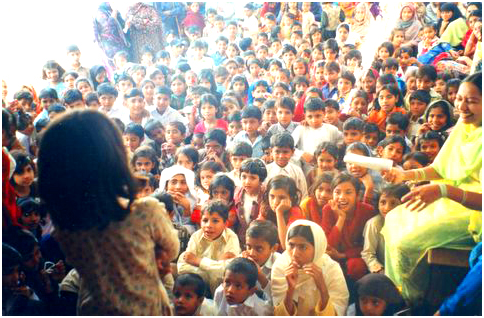 'Leaders Today' & 'Me to We'
1999 saw the commencement of 'Leaders Today' by Marc Kielburger partnering with his brother Craig. The specially designed global leadership programs offer volunteering travel opportunities to developing nations.
'Me to We' was founded by Marc Kielburger which provides lifestyle products and choices to youth, families and corporations. A socially reliable product such as an organic clothing line is produced along with well known corporations. Me to We also includes volunteer travel programs, a publishing house, a speakers' bureau, training workshops and a music label. For changing consumption motives and patterns.
Me to We Style has already become Canada's biggest organic clothing manufacturer. All universities are their clients. 3,000 people take trips abroad. For every book sold, they give a book for free to a school abroad. 50% of their overall profits go to FTC programs.
Me to We was inspired by Craig's encounters with traditional cultures, experiencing people's joy and also their powerful spirit of taking responsibilty from an early age. This changed his worldview, and it made them start out on changing Canadian worldview from ME to WE. Craig talks about this experience and his book "The World Needs Your Kid", about nurturing empathy – raising compassionate and caring children with a uniquely Canadian perspective.
Craig explains that empathy need not grow from life-shattering experience, but mentorship – parents living good values as good examples, role models. As volunteers, sharing etc. And that raising empathic youth is the greatest challenge to our societies, since it is the decisive aspect whether there will be a society of passive by-standers or caring, active people who can solve the visible challenges of environmental, social etc. demise.
Me to We is the extension from their work for helping the underpriviledged abroad to bringing healing to their own home communities in Canada. Hundreds of schools are partnering, major events with thousands of activist children held, trainings organised for youth leaders and mob(ilizer)s inspiring their cities. The most powerful youth movement out there!
It all started when these two boys met. An article, a shining face, a few words about positive action made quite a difference. It feels like you're with us – enjoying this, Iqbal!
Websites on the programs:
http://www.freethechildren.com
There's lots of learning and inspiration to be gained from them! Connect with Craig and Marc on Facebook and Twitter.
Awards:
Craig Kielburger has been the recipient of awards such as Order of Canada, Roosevelt Freedom Medal and The World Children's Prize for the Rights of the Child (often called the Children's Nobel Prize).
Marc Kielburger has been awarded with the Order of Canada award for his work. He was also selected as one of the 250 Young Global Leaders by the World Economic Forum. Marc was also awarded the Ontario Medal for Good Citizenship. In 2004, Marc was the youngest to be selected as 'One of Canada's Top 40 Leaders under 40.' In 2006, Craig became the youngest leader.
Craig and Marc have featured in shows such as The Oprah Winfrey Show, The Colbert Report, CNN, BBC and other news and print media.
Interview with Craig Kielburger: https://www.rediff.com/news/1999/jun/01us1.htm
What matters most is that YOU start taking action. MeToWe run GO LOCAL Academies. Check em out, and – join in! Ordinary kids turn into changemakers. Right away!
WE Day 2018 Mark & Craig Kielburger Interview:
BACKGROUND INFROMATION: CHILD LABOUR
"The Child is father of the man"- Wordsworth.
Childhood is the age of laughter and happiness. It is imperative to protect children and ensure a happy and healthy growth for every nation. However, many children are forced into the dark world of employment, also termed as child slavery. Child slavery deals with the exploitation of children by employing them under the age of 14-16yrs thereby blocking access to education and harming them physically, morally or mentally. It is a world phenomenon which is considered illegal by law and custom of many governments. However, this human rights issue exists in many developing countries which suffer from the problems of child employment. Child labor is prevalent especially in rural areas, in industries such as agriculture, mining, machinery or carpet factories, or even by individuals in domestic or self employed business and odd jobs.
The article 32 of the UN speaks about child labor as- "States parties recognize the right of the child to be protected from economic exploitation and from performing any work that is likely to be hazardous or to interfere with the child's education, or to be harmful to the child's health or physical, mental, spiritual, moral or social development."
UNICEF defines child labor as work that exceeds a minimum number of hours, depending on the age of a child and on the type of work. Such work is considered harmful to the child and should therefore be eliminated.
Ages 5-11: At least one hour of economic work or 28 hours of domestic work per week.
Ages 12-14: At least 14 hours of economic work or 28 hours of domestic work per week.
Ages 15-17: At least 43 hours of economic or domestic work per week.
Statistics:
According to UNICEF, one out of six children in the world is a child labor which is a staggering 152 million children in the age group of 5-17yrs with smaller ones from 5-14yrs at a higher number. In Sub-Saharan Africa, one out of five children is a child labor; about 72 million children. In Asia and the Pacific, the number corresponds to 62 million children.
Innumerable efforts have been taken to reduce child slavery. One of the key factors to prevent child slavery is by imparting free and accessible education and information to children all over the world.