So, besides tree house action etc in the enormous garden,
and the $1,000€ FUNdraiser and YL chats,
we threw a sevengardens workshop for kids, that is :
sourcing colors from plants
as practiced (and trained) by our YL Partner sevengardens, UNESCO program structure and founding partner of RCE-Ruhr, Regional Centre of Expertise for Education for Sustainable Development ESD and SDGs, United Nations University. 
Yep, in the garden on this nice summer day, with kids and parents. 
Eric got trained by the sevengardens master himself, artist Peter Reichenbach and started out with Peter's funny tales of adventure … demonstrating the method … crrtch crrtch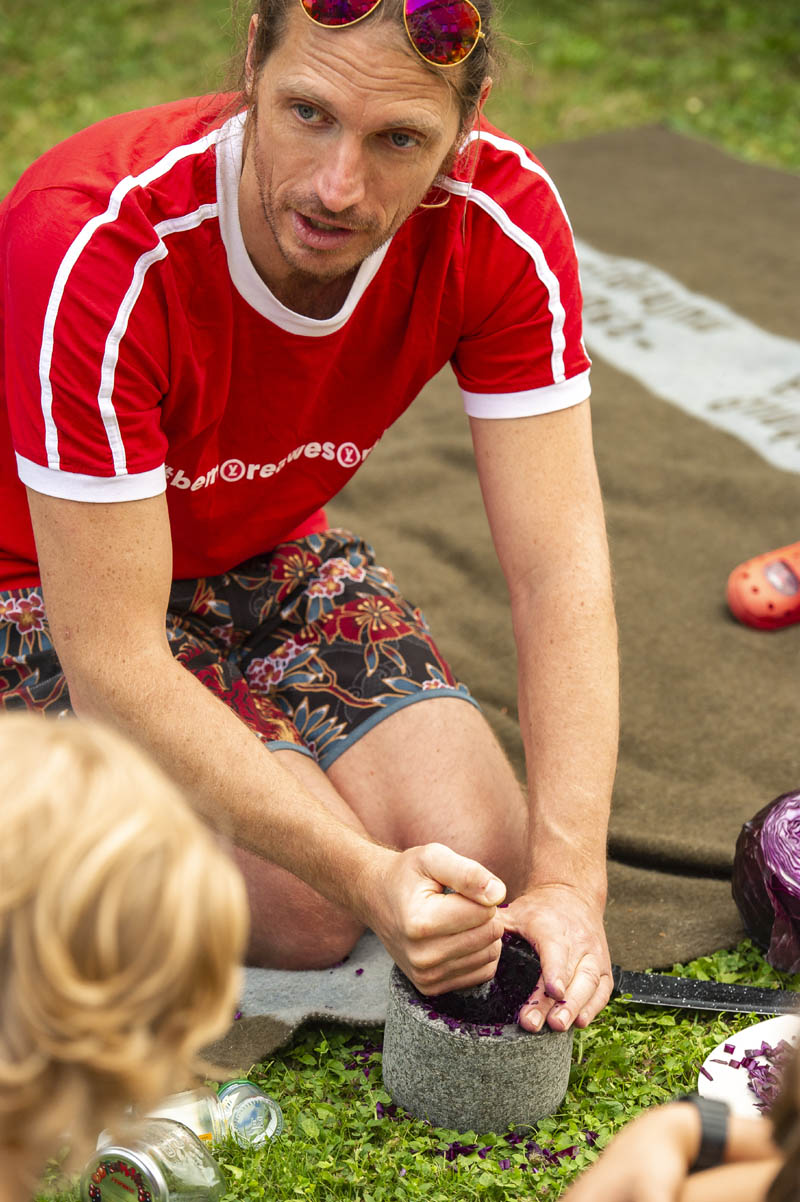 No drones needed, a ladder does it. 
But you see how precious it is to add a little wit and effort to document good stuff that's going on.
It's just a garden party but the docu feel is splendid like a professional workshop. Because it also was a professional workshop 🙂 and you can give it, too.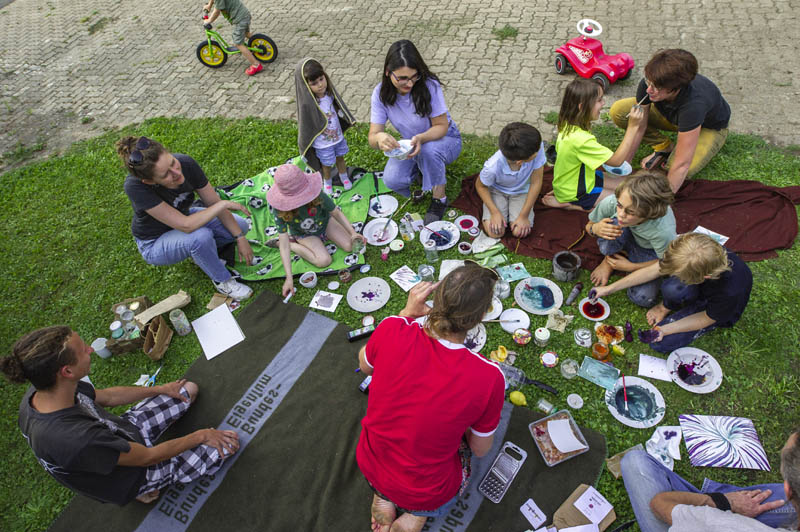 We used well over a dozen resources, dry petals, woods and some magic powders, all common natural stuff, much of which we have in our home kitchens. Leftovers can get consumed for dinner or used in another color making session 🙂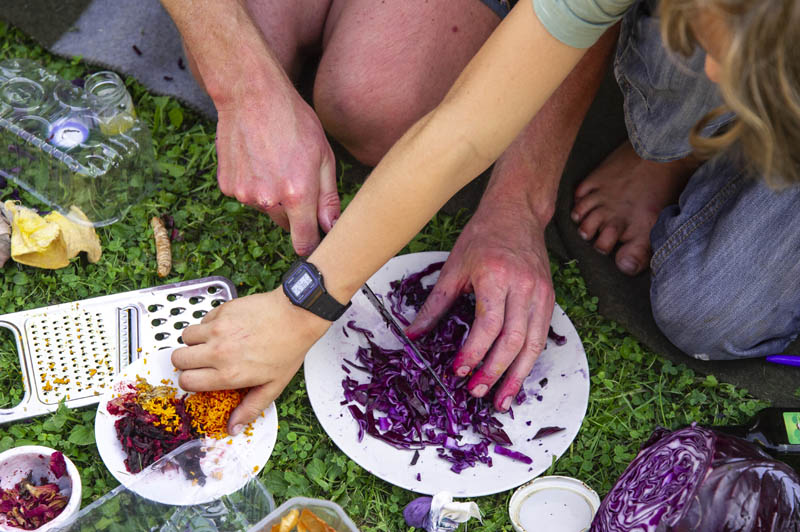 And the boys just went at it.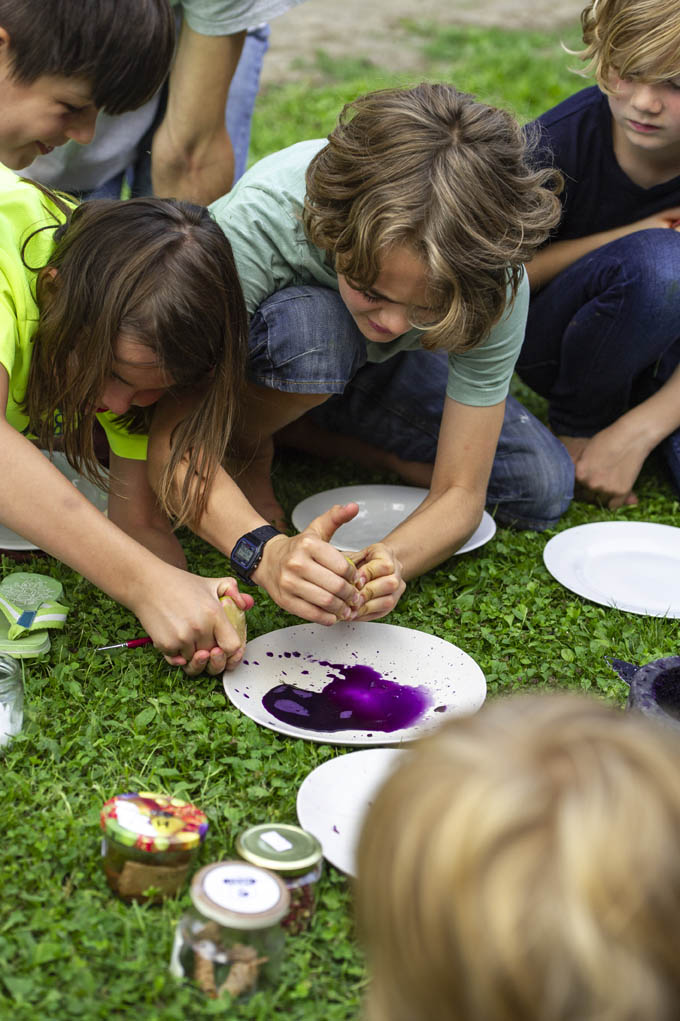 Is that some COLOR, aye?!
Oha, and then this happens … ouw … wuahhh … forget everything you thought about kids growing up with electronic gadgets and oh so spectacular colorful pixelscreen effects … this archetypal ALIVE COLOR beats that by far …
What does this stuff do? Are these onion peels? What's the wood for? What happens if I add this powder? What's this cream? Coconut oil. Lemme try!
It's creamy, like nail lacquer. One can do lipstick, too! I wanna try, mom, come here! And mom gets lipstick applied … it doesn't yet look entirely perfect … but the ingredients were right, weren't they? 
Wait, I'm gonna give Zeynep a call. She's the sevengardens cosmetics chief. Aha, it's about the proportions, thank you. 
Is it your common experience that 10 year old boys spend 2 hours totally immersed in sourcing color from plants, experimenting, painting, trying, sharing, learning, teaching another, and helping adults and small kids joining in later to do like them, and how to make specific color shades? We saw it happen.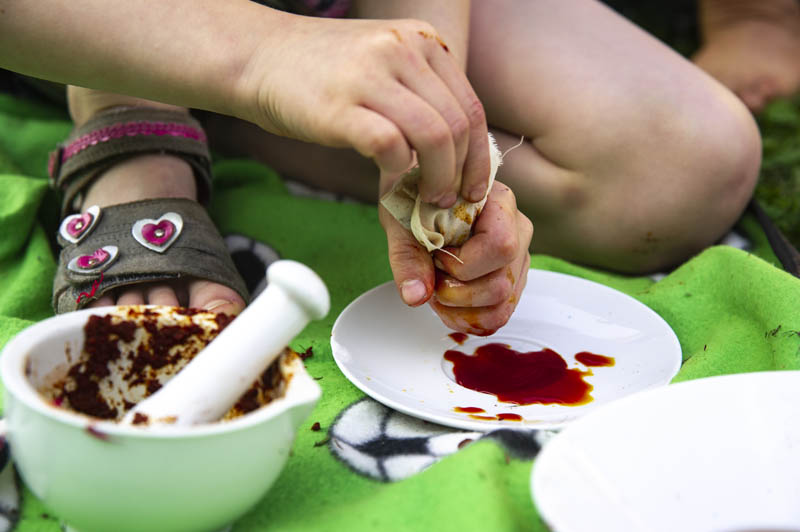 The materials we used cost $30€ at sevengardens shop (facebook) run by Isabella Smolin … and half or maybe two thirds of it was left. That's great value.
If you got curious about what it takes to organize such magical sessins, which can get expanded without limits by fired up youth following their inner alchemist's path for art, play, dyes, cosmetics, therapy, professional uses … search the internet for "your location + sevengardens" …
If you don't get results, give Eric a call. He got trained as certified sevengardens by Master Peter himself, knows a fair bunch of dialogers and trains new dialogers, face2face and online.
In fact, 3 participants got inspired to deepen their understanding and got certified as sevengardens Dialogers! True thing!